Other events
MOSBRI

Workshop: Handling fibrillar and amyloid proteins
Date: 2nd February 2023
Location:
Online
(Hosted by ProLinC)
Online workshop and consensus meeting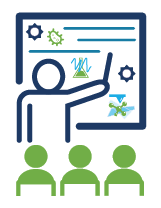 ---
Training schools
One of MOSBRI's central aims is to contribute to the raising of a new generation of researchers and engineers, ready to optimally exploit and eventually further develop all the essential tools for their research, through high-quality training of students and scientists, both from academia and industry, and rapid dissemination of novel developments application fields of biophysical methods, to emphasize cross-fertilization and integration of techniques. These actions will foster optimal placement of post-docs in academia or in companies, thus providing added value to the job market.
---
Annual meetings
The 2nd MOSBRI scientific conference will be held from the 5th to the 7th June 2023, at the Patio de La Infanta – iberCaja in Zaragoza, Spain.

---
The 1st MOSBRI scientific conference was held at Institut Pasteur, (Paris, France).
For more information, visit the conference website.
Mon
Tue
Wed
Thu
Fri
Sat
Sun
---