MOSBRI co-organised a side event on Long-term sustainability of small and mid-scale distributed RI projects during the ICRI2022 conference in Brno (Czech Republic).
The European Science Foundation, the Europlanet association and the INFRAIA projects MOSBRI and VITALISE organised a side event on the 19th of October 2022 bringing together 'distributed' Research Infrastructures developed under H2020 and previous EC FP programmes. 156 people registered, 85 on-site and 71 online. The main goal of this side event was to communicate directly to the European Commission the challenges that many European RI communities, either "starting" or "advanced", face in terms of sustainability especially under the new working programme for Research Infrastructures in Horizon Europe.
The session was organised in three sessions. In the first, representatives from 10 RI projects (ARICE[1], ESTEEM3[2], EUFAR[3], EuroNanoLab[4], EUROFLEETS+[5], iNEXT-Discovery[6], PRISMAP[7], TRANSVAC[8], VetBioNet[9], VITALISE[10]) presented their plans for sustainability followed by Anne Charlotte Joubert who presented the role of the ENRIITC project in developing RI-Industry Relationships. This session was moderated by Patrick England (MOSBRI).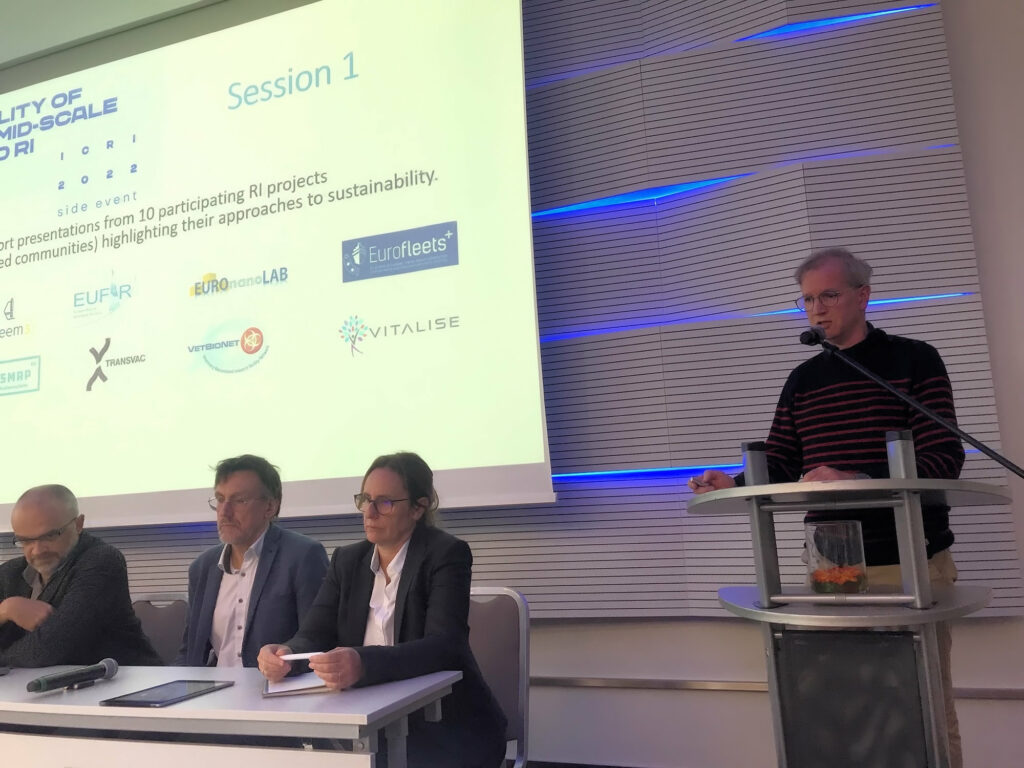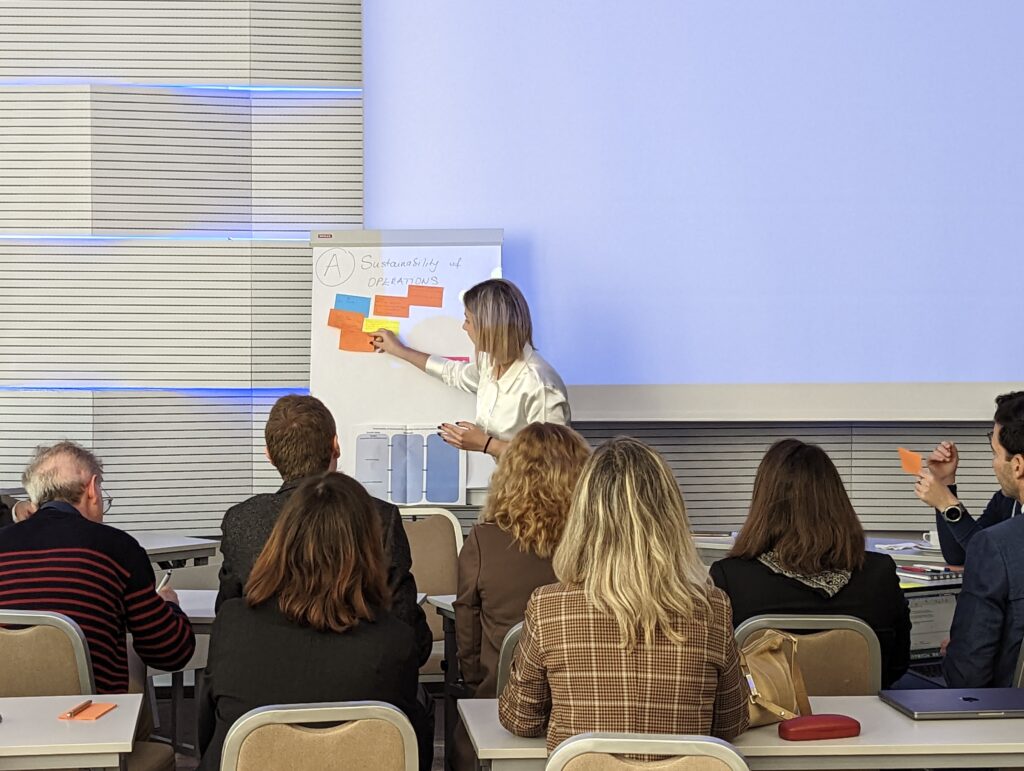 In session 2, three discussion groups were organised focused on: (1) Sustainability of distributed RI: funding models and operational solutions (R&I, harmonisation of standards, Open Science, education and networking activities); (2) Sustainability of services: TNA: physical, remote, and virtual access; and (3) Visibility and impact of RI activities including catalogues of services, outreach activities to all types of users and the public. These discussion groups were moderated by Despoina Petsani (VITALISE), Anne-Charlotte Fauvel (EATRIS), Sabine Philippin (ATMO-ACCESS), Annika Thies (eRImote), Claudia Alen Amaro (RI-VIS) and Cecilia Blasetti (Wayforlight).
A fourth co-creation session organised for the online participants was moderated by Eleni Toli (NI4OS) and Evdokimos Konstantinidis (VITALISE).

In the final session, moderated by Nigel Mason (Europlanet), session 2 rapporteurs presented the conclusions of the thematic discussion groups and the issues raised were analysed and commented on by panellists: Barbara Schramm (ReMade@ARI), Michel Boër (AgroServ) and Agnes Robin (DG RTD, RI unit – European Commission).
The main outcomes of this event were:
The recognition of the unique role RI play in developing leading international research.
The desire for 'distributed' RIs to work together in the development of different sustainability models.
Trans-national access is a unique programme that provides Europe with important scientific advantages but funding it through national sources is difficult (sometimes not allowed by national laws). EC support is therefore critical.
Harmonisation of national and EU policies is needed, as well as funding programmes for small and mid-scale research infrastructures.
Creating legal entities might pose major administrative challenges to researchers especially from small RI communities.
Engaging in projects with the private sector is not easy. Often there is no investment when short-term revenue is not guaranteed.
There is a risk that by only funding large-scale top-down initiatives as in the current INFRASERV calls, valuable smaller communities may dismantle and disappear.
Remote services provision may be useful for "automatised" services but less so for tailored, more complex experimental set-ups.
Demonstrating user support is important for long-term sustainability vis-à-vis funders.
Targeted outreach activities are needed for specific stakeholder groups but require dedicated resources (budget and staff time). These activities help RIs find funders other than the EC, e.g., national funding agencies, regional innovation clusters, etc.
The European Commission on its side confirmed that Horizon Europe is moving to a challenge-driven approach, where the focus is driven by what is considered necessary and useful from the user perspective. The RI work programme aims to have a global perspective and the EC is working with ESFRI and member states to improve the RI landscape analysis. Such analysis has focused so far on existing and large-scale RIs; small/mid-scale and newer RIs are in most cases not mentioned in the current roadmaps (both European and national).
The European Commission studies the possibility of creating a CO-FUND pilot for RI, relying on the support of local governments (national or regional) to engage local authorities to support the transition to sustainability of these RI projects. In the 2023-2024 work programme there is a co-fund pilot (HORIZON-INFRA-2023-SERV-01-03: Research infrastructures services advancing frontier knowledge: co-fund pilots with pan-European RIs and/or national RIs) where the main objective is service provision. There might be further pilots included in the 2025-2026 work programme.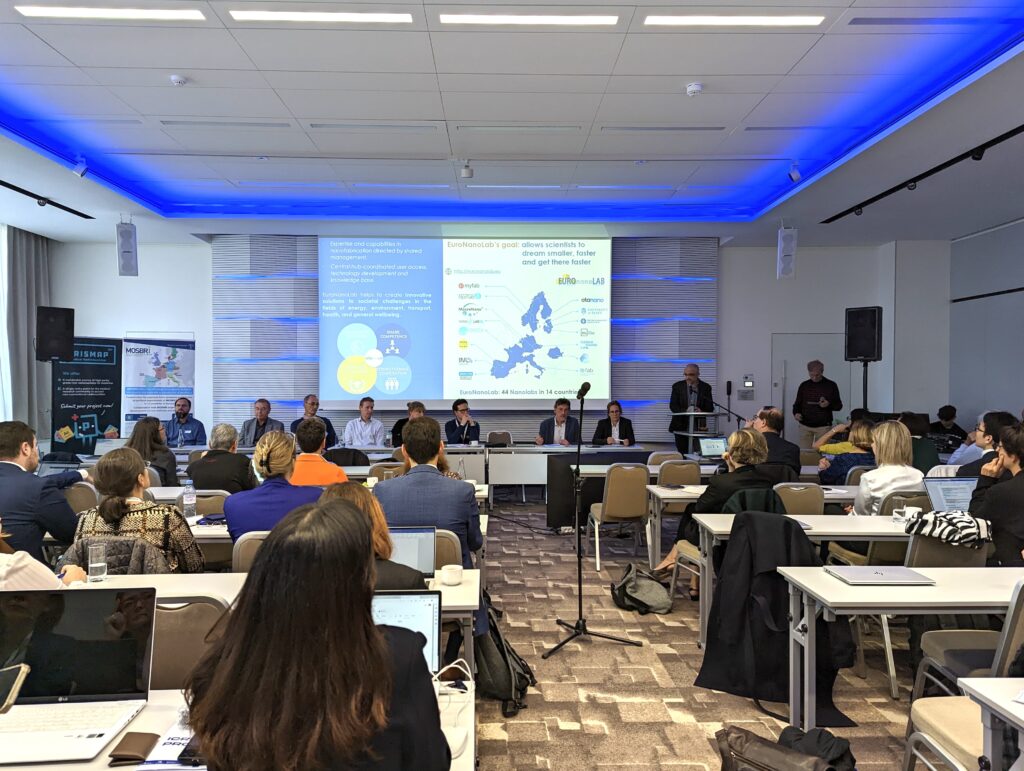 Future meetings to discuss this topic are planned. For more information about the event and follow-up activities, contact Ana Helman () and Liliana Avila-Ospina ().
---
[1] Verónica Willmott Puig (ARICE)
[2] Rafal Dunin-Borkowski (ESTEEM3)
[3] Jan Hanuš (EUFAR)
[4] Vittorio Morandi (EuroNanoLab)
[5] Niamh Flavin (Eurofleets+)
[6] Vladimir Sklenar (iNEXT-Discovery)
[7] Thomas Elias Cocolios (PRISMAP)
[8] Stefan Jungbluth (TRANSVAC)
[9] Keith T. Ballingall (VetBioNet)
[10] Despoina Petsani (VITALISE)