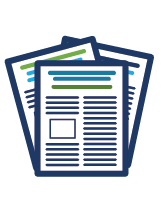 MOSBRI Publications
Publications arising from TNA
2022
Molecular dynamics simulations of the adsorption of an intrinsically disordered protein: Force field and water model evaluation in comparison with experiments
Hamid, M. K, Månsson, L. K., Meklesh, V., Persson, P., Skepö, M.
Frontiers in Molecular Biosciences 9 958175, (2022)
DOI: 10.3389/fmolb.2022.958175

Abstract
This study investigates possible structural changes of an intrinsically disordered protein (IDP) when it adsorbs to a solid surface. Experiments on IDPs primarily result in ensemble averages due to their high dynamics. Therefore, molecular dynamics (MD) simulations are crucial for obtaining more detailed information on the atomistic and molecular levels. An evaluation of seven different force field and water model combinations have been applied: ( A) CHARMM36IDPSFF + CHARMM-modified TIP3P, (B) CHARMM36IDPSFF + TIP4P-D, (C) CHARMM36m + CHARMM-modified TIP3P, (D) AMBER99SB-ILDN + TIP3P, (E) AMBER99SB-ILDN + TIP4P-D, (F) AMBERff03ws + TIP4P/2005, and (G) AMBER99SB-disp + disp-water. The results have been qualitatively compared with those of small-angle X-ray scattering, synchrotron radiation circular dichroism spectroscopy, and attenuated total reflectance Fourier transform infrared spectroscopy. The model IDP corresponds to the first 33 amino acids of the N-terminal of the magnesium transporter A (MgtA) and is denoted as KEIF. With a net charge of +3, KEIF is found to adsorb to the anionic synthetic clay mineral Laponite (R) due to the increase in entropy from the concomitant release of counterions from the surface. The experimental results show that the peptide is largely disordered with a random coil conformation, whereas the helical content (alpha- and/or 3(10)-helices) increased upon adsorption. MD simulations corroborate these findings and further reveal an increase in polyproline II helices and an extension of the peptide conformation in the adsorbed state. In addition, the simulations provided atomistic resolution of the adsorbed ensemble of structures, where the arginine residues had a high propensity to form hydrogen bonds with the surface. Simulations B, E, and G showed significantly better agreement with experiments than the other simulations. Particularly noteworthy is the discovery that B and E with TIP4P-D water had superior performance to their corresponding simulations A and D with TIP3P-type water. Thus, this study shows the importance of the water model when simulating IDPs and has also provided an insight into the structural changes of surface-active IDPs induced by adsorption, which may play an important role in their function.
---
The human TRPA1 intrinsic cold and heat sensitivity involves separate channel structures beyond the N-ARD domain
Moparthi, L., Sinica, V., Moparthi, V. K., Kreir, M., Vignane, T., Filipovic, M. R., Vlachova,V., Zygmunt, P. M.
Nature Communications 13 6113, (2022)
DOI: 10.1038/s41467-022-33876-8
Abstract
TRP channels sense temperatures ranging from noxious cold to noxious heat. Whether specialized TRP thermosensor modules exist and how they control channel pore gating is unknown. We studied purified human TRPA1 (hTRPA1) truncated proteins to gain insight into the temperature gating of hTRPA1. In patch-clamp bilayer recordings, Delta 1-688 hTRPA1, without the N-terminal ankyrin repeat domain (N-ARD), was more sensitive to cold and heat, whereas Delta 1-854 hTRPA1, also lacking the S1-S4 voltage sensing-like domain (VSLD), gained sensitivity to cold but lost its heat sensitivity. In hTRPA1 intrinsic tryptophan fluorescence studies, cold and heat evoked rearrangement of VSLD and the C-terminus domain distal to the transmembrane pore domain S5-S6 (CTD). In whole-cell electrophysiology experiments, replacement of the CTD located cysteines 1021 and 1025 with alanine modulated hTRPA1 cold responses. It is proposed that hTRPA1 CTD harbors cold and heat sensitive domains allosterically coupled to the S5-S6 pore region and the VSLD, respectively.
---
2023
Raynals, an online tool for the analysis of dynamic light scattering.
Burastero, O., Draper-Barr, G., Raynal, B., Chevreuil, M., England, P., Garcia-Alai, M.
Acta Crystallographica D79 p673–683 (2023)
DOI: 10.1107/S2059798323004862
Abstract
Dynamic light scattering (DLS) is routinely employed to assess the homogeneity and size-distribution profile of samples containing microscopic particles in suspension or solubilized polymers. In this work, Raynals, user-friendly software for the analysis of single-angle DLS data that uses the Tikhonov–Phillips regularization, is introduced. Its performance is evaluated on simulated and experimental data generated by different DLS instruments for several proteins and gold nanoparticles. DLS data can easily be misinterpreted and the simulation tools available in Raynals allow the limitations of the measurement and its resolution to be understood. It was designed as a tool to address the quality control of biological samples during sample preparation and optimization and it helps in the detection of aggregates, showing the influence of large particles. Lastly, Raynals provides flexibility in the way that the data are presented, allows the export of publication-quality figures, is free for academic use and can be accessed online on the eSPC data-analysis platform at https://spc.embl-hamburg.de/.
---
Guidelines for the Simulations of Nitroxide X-Band cw EPR Spectra from Site-Directed Spin Labeling Experiments Using SimLabel
Etienne, E., Pierro, A., Tamburrini, K. C., Bonucci, A., Mileo, E., Martinho, M., Belle, V.
Molecules 28 1348, (2023)
DOI: 10.3390/molecules28031348
Abstract
Site-directed spin labeling (SDSL) combined with continuous wave electron paramagnetic resonance (cw EPR) spectroscopy is a powerful technique to reveal, at the local level, the dynamics of structural transitions in proteins. Here, we consider SDSL-EPR based on the selective grafting of a nitroxide on the protein under study, followed by X-band cw EPR analysis. To extract valuable quantitative information from SDSL-EPR spectra and thus give a reliable interpretation on biological system dynamics, a numerical simulation of the spectra is required. However, regardless of the numerical tool chosen to perform such simulations, the number of parameters is often too high to provide unambiguous results. In this study, we have chosen SimLabel to perform such simulations. SimLabel is a graphical user interface (GUI) of Matlab, using some functions of Easyspin. An exhaustive review of the parameters used in this GUI has enabled to define the adjustable parameters during the simulation fitting and to fix the others prior to the simulation fitting. Among them, some are set once and for all (g(y), g(z)) and others are determined (A(z), g(x)) thanks to a supplementary X-band spectrum recorded on a frozen solution. Finally, we propose guidelines to perform the simulation of X-band cw-EPR spectra of nitroxide labeled proteins at room temperature, with no need of uncommon higher frequency spectrometry and with the minimal number of variable parameters.
---
Fluorescence labeling methods influence the aggregation process of α-syn in vitro differently
Jadavi, S., Dante, S., Civiero, L., Sandre, M., Bubacco, L., Tosatto, L., Bianchini, P., Canale, C., Diaspro, A.
Nanoscale 15 8270 (2023)
DOI: 10.1039/D2NR05487F
Abstract
In a previous study, the coexistence of different aggregation pathways of insulin and beta-amyloid (A beta) peptides was demonstrated by correlative stimulated emission depletion (STED) microscopy and atomic force microscopy (AFM). This had been explained by suboptimal proteins labeling strategies that generate heterogeneous populations of aggregating species. However, because of the limited number of proteins considered, the failure of the fluorescent labeling that occurs in a large portion of the aggregating fibrils observed for insulin and A beta peptides, could not be considered a general phenomenon valid for all molecular systems. Here, we investigated the aggregation process of alpha-synuclein (alpha-syn), an amyloidogenic peptide involved in Parkinson's disease, which is significantly larger (MW similar to 14 kDa) than insulin and A beta, previously investigated. The results showed that an unspecific labeling procedure, such as that previously adopted for shorter proteins, reproduced the coexistence of labeled/unlabeled fibers. Therefore, a site-specific labeling method was developed to target a domain of the peptide scarcely involved in the aggregation process. Correlative STED-AFM illustrated that all fibrillar aggregates derived from the aggregation of alpha-syn at the dye-to-protein ratio of 1 : 22 were fluorescent. These results, demonstrated here for the specific case of alpha-syn, highlight that the labeling artifacts can be avoided by careful designing the labeling strategy for the molecular system under investigation. The use of a label-free correlative microscopy technique would play a crucial role in the control of the setting of these conditions.
---
Electrochemical kinetics support a second coordination sphere mechanism in metal-based formate dehydrogenase
Meneghello, M., Uzel, A., Broc, M., Manuel, R. R., Magalon, A., Léger, C., Pereira, I. A. C., Walburger, A., Fourmond, V.
Angewandte Chemie International Edition 62(6) e202212224 (2023)
DOI: 10.1002/anie.202212224
Abstract
Metal-based formate dehydrogenases are molybdenum or tungsten-dependent enzymes that catalyze the interconversion between formate and CO2. According to the current consensus, the metal ion of the catalytic center in its active form is coordinated by 6S (or 5S and 1 Se) atoms, leaving no free coordination sites to which formate could bind to the metal. Some authors have proposed that one of the active site ligands decoordinates during turnover to allow formate binding. Another proposal is that the oxidation of formate takes place in the second coordination sphere of the metal. Here, we have used electrochemical steady-state kinetics to elucidate the order of the steps in the catalytic cycle of two formate dehydrogenases. Our results strongly support the "second coordination sphere" hypothesis.
---
Effect of Cholesterol on Biomimetic Membrane Curvature and Coronavirus Fusion Peptide Encapsulation
Milogrodzka, I., Pham, D.T.N., Sama, G.R., Samadian, H., Zhai, J.L., de Campo, L., Kirby, N.M., Scott, T.F., Holl, M.M.B., van't Hag, L.
ACS Nano 17 (9) 8598-8612 (2023)
DOI: 10.1021/acsnano.3c01095
Abstract
Biomimetic cubic phases can be used for protein encapsulation in a variety of applications such as biosensors and drug delivery. Cubic phases with a high concentration of cholesterol and phospholipids were obtained herein. It is shown that the cubic phase structure can be maintained with a higher concentration of biomimetic membrane additives than has been reported previously. Opposing effects on the curvature of the membrane were observed upon the addition of phospholipids and cholesterol. Furthermore, the coronavirus fusion peptide significantly increased the negative curvature of the biomimetic membrane with cholesterol. We show that the viral fusion peptide can undergo structural changes leading to the formation of hydrophobic alpha-helices that insert into the lipid bilayer. This is of high importance, as a fusion peptide that induces increased negative curvature as shown by the formation of inverse hexagonal phases allows for greater contact area between two membranes, which is required for viral fusion to occur. The cytotoxicity assay showed that the toxicity toward HeLa cells was dramatically decreased when the cholesterol or peptide level in the nanoparticles increased. This suggests that the addition of cholesterol can improve the biocompatibility of the cubic phase nanoparticles, making them safer for use in biomedical applications. As the results, this work improves the potential for the biomedical end-use applications of the nonlamellar lipid nanoparticles and shows the need of systematic formulation studies due to the complex interplay of all components.
---
An allosteric redox switch involved in oxygen protection in a CO2 reductase
Oliveira, A.R., Mota, C., Vilela-Alves, G., Manuel, R.R., Pedrosa, N., Fourmond, V., Klymanska, K., Léger, C., Guigliarelli, B., Romão, M.J., Pereira, I.A.C.
Nature Chemical Biology (2023)
DOI: 10.1038/s41589-023-01484-2
Abstract
Metal-dependent formate dehydrogenases reduce CO2 with high efficiency and selectivity, but are usually very oxygen sensitive. An exception is Desulfovibrio vulgaris W/Sec-FdhAB, which can be handled aerobically, but the basis for this oxygen tolerance was unknown. Here we show that FdhAB activity is controlled by a redox switch based on an allosteric disulfide bond. When this bond is closed, the enzyme is in an oxygen-tolerant resting state presenting almost no catalytic activity and very low formate affinity. Opening this bond triggers large conformational changes that propagate to the active site, resulting in high activity and high formate affinity, but also higher oxygen sensitivity. We present the structure of activated FdhAB and show that activity loss is associated with partial loss of the metal sulfido ligand. The redox switch mechanism is reversible in vivo and prevents enzyme reduction by physiological formate levels, conferring a fitness advantage during O2 exposure.
---
In-cell investigation of the conformational landscape of the GTPase UreG by SDSL-EPR
Pierro, A., Tamburrini, K.C., Leguenno, H., Gerbaud, G., Etienne, E., Guigliarelli, B., Belle, V., Zambelli, B., Mileo, E.
iScience 26(10) 107855 (2023)
DOI: 10.1016/j.isci.2023.107855
Abstract
UreG is a cytosolic GTPase involved in the maturation network of urease, an Ni-containing bacterial enzyme. Previous investigations in vitro showed that UreG features a flexible tertiary organization, making this protein the first enzyme discovered to be intrinsically disordered. To determine whether this heterogeneous behavior is maintained in the protein natural environment, UreG structural dynamics was investigated directly in intact bacteria by in-cell EPR. This approach, based on site-directed spin labeling coupled to electron paramagnetic resonance (SDSL-EPR) spectroscopy, enables the study of proteins in their native environment. The results show that UreG maintains heterogeneous structural landscape in-cell, existing in a conformational ensemble of two major conformers, showing either random coil-like or compact properties. These data support the physiological relevance of the intrinsically disordered nature of UreG and indicates a role of protein flexibility for this specific enzyme, possibly related to the regulation of promiscuous protein interactions for metal ion delivery.
---
Antimicrobial Activity of an Fmoc-Plantaricin 149 Derivative Peptide against Multidrug-Resistant Bacteria.
Righetto, G.M.; Lopes, J.L.d.S.; Bispo, P.J.M.; André, C.; Souza, J.M.; Andricopulo, A.D.; Beltramini, L.M.; Camargo, I.L.B.d.C.
Anitbiotics 12 391 (2023)
DOI: 10.3390/antibiotics12020391
Abstract
Antimicrobial resistance poses a major threat to public health. Given the paucity of novel antimicrobials to treat resistant infections, the emergence of multidrug-resistant bacteria renewed interest in antimicrobial peptides as potential therapeutics. This study designed a new analog of the antimicrobial peptide Plantaricin 149 (Pln149-PEP20) based on previous Fmoc-peptides. The minimal inhibitory concentrations of Pln149-PEP20 were determined for 60 bacteria of different species and resistance profiles, ranging from 1 mg/L to 128 mg/L for Gram-positive bacteria and 16 to 512 mg/L for Gram-negative. Furthermore, Pln149-PEP20 demonstrated excellent bactericidal activity within one hour. To determine the propensity to develop resistance to Pln149-PEP20, a directed-evolution in vitro experiment was performed. Whole-genome sequencing of selected mutants with increased MICs and wild-type isolates revealed that most mutations were concentrated in genes associated with membrane metabolism, indicating the most likely target of Pln149-PEP20. Synchrotron radiation circular dichroism showed how this molecule disturbs the membranes, suggesting a carpet mode of interaction. Membrane depolarization and transmission electron microscopy assays supported these two hypotheses, although a secondary intracellular mechanism of action is possible. The molecule studied in this research has the potential to be used as a novel antimicrobial therapy, although further modifications and optimization remain possible.
---
Molecular insights into RmcA-mediated c-di-GMP consumption: Linking redox potential to biofilm morphogenesis in Pseudomonas aeruginosa
Scribani Rossi, C., Eckartt, K., Scarchilli, E., Angeli, S., Price-Whelan, A., Di Matteo, A., Chevreuil, M., Raynal, B., Arcovito, A., Giacon, N., Fiorentino, F., Rotili, D., Mai, A., Espinosa-Urgel, M., Cutruzzolà, F., Dietrich, L.E.P., Paone, A., Paiardini, A., Rinaldo, S.
Microbiological Res. 277 127498 (2023)
DOI: 10.1016/j.micres.2023.127498
Abstract
The ability of many bacteria to form biofilms contributes to their resilience and makes infections more difficult to treat. Biofilm growth leads to the formation of internal oxygen gradients, creating hypoxic subzones where cellular reducing power accumulates, and metabolic activities can be limited. The pathogen Pseudomonas aeruginosa counteracts the redox imbalance in the hypoxic biofilm subzones by producing redox-active electron shuttles (phenazines) and by secreting extracellular matrix, leading to an increased surface area-to-volume ratio, which favors gas exchange. Matrix production is regulated by the second messenger bis-(3′,5′)-cyclic-dimeric-guanosine monophosphate (c-di-GMP) in response to different environmental cues. RmcA (Redox modulator of c-di-GMP) from P. aeruginosa is a multidomain phosphodiesterase (PDE) that modulates c-di-GMP levels in response to phenazine availability. RmcA can also sense the fermentable carbon source arginine via a periplasmic domain, which is linked via a transmembrane domain to four cytoplasmic Per-Arnt-Sim (PAS) domains followed by a diguanylate cyclase (DGC) and a PDE domain. The biochemical characterization of the cytoplasmic portion of RmcA reported in this work shows that the PAS domain adjacent to the catalytic domain tunes RmcA PDE activity in a redox-dependent manner, by differentially controlling protein conformation in response to FAD or FADH2. This redox-dependent mechanism likely links the redox state of phenazines (via FAD/FADH2 ratio) to matrix production as indicated by a hyperwrinkling phenotype in a macrocolony biofilm assay. This study provides insights into the role of RmcA in transducing cellular redox information into a structural response of the biofilm at the population level. Conditions of resource (i.e. oxygen and nutrient) limitation arise during chronic infection, affecting the cellular redox state and promoting antibiotic tolerance. An understanding of the molecular linkages between condition sensing and biofilm structure is therefore of crucial importance from both biological and engineering standpoints.
---
The phosphodiesterase RmcA contributes to the adaptation of Pseudomonas putida to l-arginine
Scribani-Rossi C, Molina-Henares MA, Angeli S, Cutruzzolà F, Paiardini A, Espinosa-Urgel M, Rinaldo S.
FEMS Microbiol Lett. 370 1-9 (2023)
DOI: 10.1093/femsle/fnad077
Abstract
Amino acids are crucial in nitrogen cycling and to shape the metabolism of microorganisms. Among them, arginine is a versatile molecule able to sustain nitrogen, carbon, and even ATP supply and to regulate multicellular behaviors such as biofilm formation. Arginine modulates the intracellular levels of 3'–5′ cyclic diguanylic acid (c-di-GMP), a second messenger that controls biofilm formation, maintenance and dispersion. In Pseudomonas putida, KT2440, a versatile microorganism with wide biotechnological applications, modulation of c-di-GMP levels by arginine requires the transcriptional regulator ArgR, but the connections between arginine metabolism and c-di-GMP are not fully characterized. It has been recently demonstrated that arginine can be perceived by the opportunistic human pathogen Pseudomonas aeruginosa through the transducer RmcA protein (Redox regulator of c-di-GMP), which can directly decrease c-di-GMP levels and possibly affect biofilm architecture. A RmcA homolog is present in P. putida, but its function and involvement in arginine perceiving or biofilm life cycle had not been studied. Here, we present a preliminary characterization of the RmcA-dependent response to arginine in P. putida in modulating biofilm formation, c-di-GMP levels, and energy metabolism. This work contributes to further understanding the molecular mechanisms linking biofilm homeostasis and environmental adaptation.
---
Interaction of a Histidine-Rich Antimicrobial Saliva Peptide with Model Cell Membranes: The Role of Histidines
Skog, A. E., Corucci, G., Tully, M. D., Fragneto, G., Gerelli, Y., Skepö, M.
Langmuir 39 7694 (2023)
DOI: 10.1021/acs.langmuir.3c00498
Abstract
Histatin 5 is a histidine-rich, intrinsically disordered, multifunctional saliva protein known to act as a first line of defense against oral candidiasis caused by Candida albicans. An earlier study showed that, upon interaction with a common model bilayer, a protein cushion spontaneously forms underneath the bilayer. Our hypothesisis that this effect is of electrostatic origin and that the observed behavior is due to proton charge fluctuations of the histidines, promoting attractive electrostatic interactions between the positively charged proteins and the anionic surfaces, with concomitant counterion release. Here we are investigating the role of the histidines in more detail by defining a library of variants of the peptide, where the former have been replaced by the pH-insensitive amino acid glutamine. By using experimental techniques such as circular dichroism, small angle X-ray scattering, quartz crystal microbalance with dissipation monitoring, and neutron reflectometry, it was determined that changing the number of histidines in the peptide sequence did not affect the structure of the peptide dissolved in solution. However, it was shown to affect the penetration depth of the peptide into the bilayer, where all variants except the one with zero histidines were found below the bilayer. A decrease in the number of histidine from the original seven to zero decreases the ability of the peptide to penetrate the bilayer, and the peptide is then also found residing within the bilayer. We hypothesize that this is due to the ability of the histidines to charge titrate, which charges up the peptide, and enables it to penetrate and translocate through the lipid bilayer.
---
Conserved intramolecular networks in GDAP1 are closely connected to CMT-linked mutations and protein stability
Sutinen, A., Paffenholz, D., Nguyen, G.T.T., Ruskamo, S., Torda, A.E., Kursula, P.
PLoS ONE 18(4) e0284532 (2023)
DOI: 10.1371/journal.pone.0284532
Abstract
Charcot-Marie-Tooth disease (CMT) is the most common inherited peripheral polyneuropathy in humans, and its subtypes are linked to mutations in dozens of different genes, including the gene coding for ganglioside-induced differentiation-associated protein 1 (GDAP1). The main GDAP1-linked CMT subtypes are the demyelinating CMT4A and the axonal CMT2K. Over a hundred different missense CMT mutations in the GDAP1 gene have been reported. However, despite implications for mitochondrial fission and fusion, cytoskeletal interactions, and response to reactive oxygen species, the etiology of GDAP1-linked CMT is poorly understood at the protein level. Based on earlier structural data, CMT-linked mutations could affect intramolecular interaction networks within the GDAP1 protein. We carried out structural and biophysical analyses on several CMT-linked GDAP1 protein variants and describe new crystal structures of the autosomal recessive R120Q and the autosomal dominant A247V and R282H GDAP1 variants. These mutations reside in the structurally central helices ⍺3, ⍺7, and ⍺8. In addition, solution properties of the CMT mutants R161H, H256R, R310Q, and R310W were analysed. All disease variant proteins retain close to normal structure and solution behaviour. All mutations, apart from those affecting Arg310 outside the folded GDAP1 core domain, decreased thermal stability. In addition, a bioinformatics analysis was carried out to shed light on the conservation and evolution of GDAP1, which is an outlier member of the GST superfamily. GDAP1-like proteins branched early from the larger group of GSTs. Phylogenetic calculations could not resolve the exact early chronology, but the evolution of GDAP1 is roughly as old as the splits of archaea from other kingdoms. Many known CMT mutation sites involve conserved residues or interact with them. A central role for the ⍺6-⍺7 loop, within a conserved interaction network, is identified for GDAP1 protein stability. To conclude, we have expanded the structural analysis on GDAP1, strengthening the hypothesis that alterations in conserved intramolecular interactions may alter GDAP1 stability and function, eventually leading to mitochondrial dysfunction, impaired protein-protein interactions, and neuronal degeneration.
---
Conformational analysis of membrane-proximal segments of GDAP1 in a lipidic environment using synchrotron radiation suggests a mode of assembly at the mitochondrial outer membrane
Sutinen, A., Jones, N. C., Hoffmann, S. V., Ruskamo, S., & Kursula, P.
Biophysical Chemistry 303, 107113 (2023)
Abstract
The mitochondrial outer membrane creates a diffusion barrier between the cytosol and the mitochondrial intermembrane space, allowing the exchange of metabolic products, important for efficient mitochondrial function in neurons. The ganglioside-induced differentiation-associated protein 1 (GDAP1) is a mitochondrial outer membrane protein with a critical role in mitochondrial dynamics and metabolic balance in neurons. Missense mutations in the GDAP1 gene are linked to the most common human peripheral neuropathy, Charcot-Marie-Tooth disease (CMT). GDAP1 is a distant member of the glutathione-S-transferase (GST) superfamily, with unknown enzymatic properties or functions at the molecular level. The structure of the cytosol-facing GST-like domain has been described, but there is no consensus on how the protein interacts with the mitochondrial outer membrane. Here, we describe a model for GDAP1 assembly on the membrane using peptides vicinal to the GDAP1 transmembrane domain. We used oriented circular dichroism spectroscopy (OCD) with synchrotron radiation to study the secondary structure and orientation of GDAP1 segments at the outer and inner surfaces of the outer mitochondrial membrane. These experiments were complemented by small-angle X-ray scattering, providing the first experimental structural models for full-length human GDAP1. The results indicate that GDAP1 is bound into the membrane via a single transmembrane helix, flanked by two peripheral helices interacting with the outer and inner leaflets of the mitochondrial outer membrane in different orientations. Impairment of these interactions could be a mechanism for CMT in the case of missense mutations affecting these segments instead of the GST-like domain.
---
Interactions and Insertion of Escherichia coli Hfq into Outer Membrane Vesicles as Revealed by Infrared and Orientated Circular Dichroism Spectroscopies
Turbant, F., Waeytens, J., Blache, A., Esnouf, E., Raussens, V., Wegrzyn, G., Achouak, W., Wien, F., Arluison, V.
International Journal of Molecular Sciences, 24(14), 11424 (2023)
DOI: 10.3390/ijms241411424
Abstract
The possible carrier role of Outer Membrane Vesicles (OMVs) for small regulatory noncoding RNAs (sRNAs) has recently been demonstrated. Nevertheless, to perform their function, these sRNAs usually need a protein cofactor called Hfq. In this work we show, by using a combination of infrared and circular dichroism spectroscopies, that Hfq, after interacting with the inner membrane, can be translocated into the periplasm, and then be exported in OMVs, with the possibility to be bound to sRNAs. Moreover, we provide evidence that Hfq interacts with and is inserted into OMV membranes, suggesting a role for this protein in the release of sRNA outside the vesicle. These findings provide clues to the mechanism of host-bacteria interactions which may not be defined solely by protein-protein and protein-outer membrane contacts, but also by the exchange of RNAs, and in particular sRNAs.
---
---
MOSBRI Partners
2021
Protein Structural Denaturation Evaluated by MCR-ALS of Protein Microarray FTIR Spectra
De Meutter, J., Goormaghtigh, E.
Analytical Chemistry 93(40) 13441-13449
DOI: 10.1021/acs.analchem.1c01416
Abstract
The loss of native structure is common in proteins. Among others, aggregation is one structural modification of particular importance as it is a major concern for the efficiency and safety of biotherapeutic proteins. Yet, recognizing the structural features associated with intermolecular bridging in a high-throughput manner remains a challenge. We combined here the use of protein microarrays spotted at a density of ca 2500 samples per cm(2) and Fourier transform infrared (FTIR) imaging to analyze structural modifications in a set of 85 proteins characterized by widely different secondary structure contents, submitted or not to mild denaturing conditions. Multivariate curve resolution alternating least squares (MCR-ALS) was used to model a new spectral component appearing in the protein set subject to denaturing conditions. In the native protein set, 6 components were found to be sufficient to obtain good modeling of the spectra. Furthermore, their shape allowed them to be assigned to alpha-helix, beta-sheet, and other structures. Their content in each protein was correlated with the known secondary structure, confirming these assignments. In the denatured proteins, a new component was necessary and modeled by MCR-ALS. This new component could be assigned to the intermolecular beta-sheet, bridging protein molecules. MCR-ALS, therefore, unveiled a potential spectroscopic marker of protein aggregation and allowed a semiquantitative evaluation of its content. Insight into other structural rearrangements was also obtained.
---
2022
ATR-FTIR Biosensors for Antibody Detection and Analysis
Suys, O., Derenne, A., Goormaghtigh, E.
International Journal of Molecular Sciences 23(19) 11895 (2022)
DOI: 10.3390/ijms231911895
Abstract
Quality control of drug products is of paramount importance in the pharmaceutical world. It ensures product safety, efficiency, and consistency. In the case of complex biomolecules such as therapeutic proteins, small variations in bioprocess parameters can induce substantial variations in terms of structure, impacting the drug product quality. Conditions for obtaining highly reproducible grafting of 11-mercaptoundecanoic acid were determined. On that basis, we developed an easy-to-use, cost effective, and timesaving biosensor based on ATR-FTIR spectroscopy able to detect immunoglobulins during their production. A germanium crystal, used as an internal reflection element (IRE) for FTIR spectroscopy, was covalently coated with immunoglobulin-binding proteins. This thereby functionalized surface could bind only immunoglobulins present in complex media such as culture media or biopharmaceutical products. The potential subsequent analysis of their structure by ATR-FTIR spectroscopy makes this biosensor a powerful tool to monitor the production of biotherapeutics and assess important critical quality attributes (CQAs) such as high-order structure and aggregation level.
---
2023
---
Visualizing Molecular Dynamics by High-Speed Atomic Force Microscopy.
van Ewijk, C., Maity, S., Roos, W.H.
In: Heller, I., Dulin, D., Peterman, E.J. (eds) Single Molecule Analysis . Methods in Molecular Biology, 2694. Humana, New York, NY (2023)
DOI: 10.1007/978-1-0716-3377-9_17
Abstract
Dynamic processes and structural changes of biological molecules are essential to life. While conventional atomic force microscopy (AFM) is able to visualize molecules and supramolecular assemblies at sub-nanometer resolution, it cannot capture dynamics because of its low imaging rate. The introduction of high-speed atomic force microscopy (HS-AFM) solved this problem by providing a large increase in imaging velocity. Using HS-AFM, one is able to visualize dynamic molecular events with high spatiotem-poral resolution under near-to physiological conditions. This approach opened new windows as finally dynamics of biomolecules at sub-nanometer resolution could be studied. Here we describe the working principles and an operation protocol for HS-AFM imaging and characterization of biological samples in liquid.
---
Lateral membrane organization as target of an antimicrobial peptidomimetic compound
Melcrova, A., Maity, S., Melcr, J., de Kok, N.A.W., Gabler, M., van der Eyden, J., Stensen, W., Svendsen, J.S.M., Driessen, A.J.M., Marrink, S.J., Roos, W.H.
Nature Communications 14(1) ar4038 (2023)
DOI: 10.1038/s41467-023-39726-5
Abstract
Antimicrobial resistance is one of the leading concerns in medical care. Here we study the mechanism of action of an antimicrobial cationic tripeptide, AMC-109, by combining high speed-atomic force microscopy, molecular dynamics, fluorescence assays, and lipidomic analysis. We show that AMC-109 activity on negatively charged membranes derived from Staphylococcus aureus consists of two crucial steps. First, AMC-109 self-assembles into stable aggregates consisting of a hydrophobic core and a cationic surface, with specificity for negatively charged membranes. Second, upon incorporation into the membrane, individual peptides insert into the outer monolayer, affecting lateral membrane organization and dissolving membrane nanodomains, without forming pores. We propose that membrane domain dissolution triggered by AMC-109 may affect crucial functions such as protein sorting and cell wall synthesis. Our results indicate that the AMC-109 mode of action resembles that of the disinfectant benzalkonium chloride (BAK), but with enhanced selectivity for bacterial membranes. The mechanism of action of the antibacterial tripeptide AMC-109 is unclear. Here, Melcrova et al. show that AMC-109 self-assembles into stable aggregates with a cationic surface, and then individual peptides insert into the bacterial membrane and disrupt membrane nanodomains, thus affecting membrane function without forming pores.
---
Conference proceedings
The MOlecular-Scale Biophysics Research Infrastructure (MOSBRI), a new EU infrastructure
Canale, C.
European Biophysics Journal with Biophysics Letters 50 102 (2021)
MOSBRI- A New European Research Infrastructure for Molecular Biophysics
Dorlet, P., Gerbaud, G., Etienne, E., Grimaldi, S., Guigliarelli, B., Belle, V.
Biochimica et Biophysica Acta-Bioenergetics 1863(S) 28 (2022)
TNA: Apply for access to laboratories of excellence in molecular scale biophysics research infrastructure (MOSBRI)
Hoffmann, S., Jones, N., Raynal, B., Von Castelmur, E., Derbyshire, D., Sunnerhagen, M.
Acta Crystallographica A – Foundation and Advances 78 E350-E350 (2022)
DOI: 10.1107/S2053273322093810
Advanced in-house X-ray diffraction and scattering instruments as a service for structural biology
Stransky, J., Pavlicek, J., Dohnalek, J.
Acta Crystallographica A – Foundation and Advances 78 E248-E248 (2022)
DOI: 10.1107/S2053273322093111
The MOlecular-Scale Biophysics Research Infrastructure (MOSBRI): a transnational initiative to structure and consolidate the European molecular biophysics community
England, P.
European Biophysics Journal with Biophysical Letters 52 S178-S178 (2023)
---
Other publications citing MOSBRI
Temoneira-1 beta-lactamase is not a metalloenzyme, but its native metal ion binding sites allow for purification by immobilized metal ion affinity chromatography
Nafaee, Z.H., Hunyadi-Gulyas, E., Gyurcsik, B.
Protein Expression and Purification 202 106169 (2023)
DOI: 10.1016/j.pep.2022.106169
Abstract
beta-lactamases protect bacteria from beta-lactam antibiotics. Temoneira (TEM) is a class A serine beta-lactamase and its coding sequence is designed into DNA vectors, such as pET-21a (+), to provide antibiotic resistance. TEM-1 beta-lactamase was overexpressed efficiently from this vector upon inducing protein expression by IPTG in BL21 (DE3) cells. Immobilized metal ion affinity chromatography (IMAC) was used based on the three native putative metal ion binding sites of TEM-1 beta-lactamase, each consisting of a pair of histidine sidechains. Elution was achieved at low concentrations of imidazole (similar to 15-200 mM). Two steps of IMAC and a subsequent anion exchange purification produced highly pure TEM-1 beta-lactamase with a yield of 1.9 mg/g of wet bacterial pellet weight. Mass spectrometry revealed that the mature form of beta-lactamase (without the signal sequence) was obtained. The secondary structure composition, calculated from the circular dichroism spectrum, showed that the target protein was folded similar to the published crystal structure. Ni(II) binding to the enzyme was also investigated. Increasing amounts of Ni(II) ions had only a small effect on the protein structure. Mass spectrometry detected up to three bound metal ions at 10:1 Ni(II):protein molar ratio, but the major peak was assigned to the monometallated beta-lactamase indicating the presence of a paramount metal ion binding site formed by the H151/H156 pair.
---