14) Malvern – Malvern Panalytical Limited
Location: Malvern, United Kingdom
Web-site(s):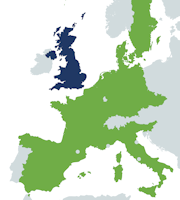 ---
Partner description
Malvern Panalytical is a leading provider of scientific instrumentation for biophysical and physicochemical analysis, and a proud partner of many of the world's biggest companies, universities, and research organizations. We have joined this project to contribute to widening the scope of application of existing techniques, and to support the development of new methodologies and approaches aimed at improved quality of data and enhanced biophysical characterization of biomolecules and their interactions.
Malvern Panalytical instruments are designed to help users better understand a wide variety of materials, ranging from proteins and polymers, particle and nanoparticle suspensions and emulsions, through to sprays and aerosols, and solids, such as metals and building materials, plastics and polymers. Our technologies enable the measurement of parameters including particle size, shape and concentration, chemical identity, zeta potential, protein charge, molecular weight, mass and conformation, biomolecular interactions and stability, elemental concentration, and crystallographic structures. Highly reliable and robust characterization of these properties is fundamental to academic and industrial research and development.