TNA Pipelines
The MOSBRI pipelines are integrated access to a synergistic set of biophysical instruments and technologies. This will allow the TNA user to fully exploit the overarching expertise of the TNA site to tackle advanced questions.
As part of the MOSBRI project, Joint research activities (JRAs) will further develop and improve pipelines, including joint pipelines involving several TNA sites, and these will be made available for TNA users. Therefore, the pipeline list below is expected to change over the lifetime of MOSBRI.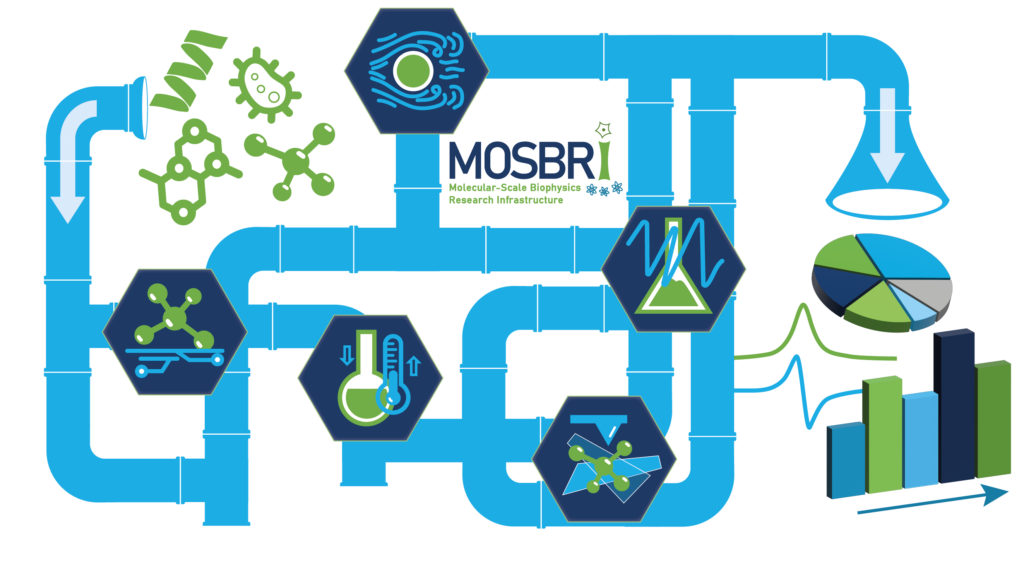 ---
Currently available pipelines, with varied instrumentation at each site, include:
(The numbers after each entry in the pipeline list refer to the TNA sites, see the table below.)
Membrane proteins in membrane models, in vitro and/or in-cellulo (3, 4, 5, 6, 8)
Membrane proteins may be especially challenging with respect to stability and their suitability for biophysical investigations. MOSBRI offers its expertise in this pipeline with access to diverse techniques such as IR spectroscopy, microscopy (fluorescence and AFM) as well as high-throughput stability screening to optimize detergents, buffers and additives.
Time-resolved folding/unfolding/binding studies (including analysis of intrinsically disordered proteins) (2, 3, 6, 7, 12)
MOSBRI has extensive expertise in time-resolved studies and includes the use of real time biosensing, as well as advanced spectroscopic setups based on IR, circular dichroism, absorbance, fluorescence and biolayer interferometry.
Amyloid proteins and fibrillation studies: kinetics, shape, stability, formation (3, 4, 5, 7)
MOSBRI has a portfolio of sites that are highly experienced in the study of amyloids and fibrils, including their formation, shape, stability and also kinetics. We offer access to IR and fluorescence spectroscopy and imaging, as well as AFM. Fluorescence probes have also been developed for use both in vitro and in tissues.
Kinetics and affinities in biomolecular self-assembly (all sites)
Many biological systems exhibit self-assembly where biomolecular components spontaneously form functional structures. The rates of complex formation (kinetics) and the strength of binding (affinity) are critical parameters to evaluate the formation and disassembly of such complexes, and therefore of highest relevance to evaluate biological function. A wide range of biophysical methods are well suited for studies of both the kinetics and the affinities of the assembly process at various time scales. MOSBRI offers expertise in identifying and pursuing the most optimal research strategy for your self-assembling sample.
Protein binding to prosthetic groups and paramagnetic centres (10, 12)
Prosthetic groups are important for a protein's biological activity e.g. enzymatic function. This pipeline focusses on their activities. As an example, metalloproteins can be studied by EPR at the EPR-MRS TNA site or via spectroscopic rapid kinetics methods at the DSB-UROM site. The latter site also offers real-time biosensing of energy metabolism.
Protein sample profiling and optimisation for monodispersity/stability (1, 6, 7, 9, 11, 13)
Monodispersity and stability are important characteristics of a protein sample and the sample components may be optimized to improve these properties. MOSBRI offers its expertise in profiling a sample and identifying possible improved conditions.
Small-molecule and solvent screening (1, 13)
This Pipeline is focused on the optimum choice of solvent components or ligands for protein stability or protein interactions with small molecules, by use of screening. MOSBRI's expertise in thermodynamics and advanced spectroscopies is the basis of this pipeline, the use of which might, for example, include protein stabilization or drug discovery.
Architecture of macromolecular assemblies in solution (1, 6, 7, 9, 11, 13)
Using this pipeline, you obtain access to MOSBRI expertise in hydrodynamic techniques to investigate the size, shape and stoichiometry of a sample. Techniques used in this pipeline include Analytical Ultra Centrifugation (AUC), Dynamic Light Scattering (DLS), Size Exclusion Chromatography coupled Multi Angle Light Scattering (SEC-MALS), Small Angle X-ray scattering (SAXS), Mass Photometry and Taylor Dispersion (TD). Several MOSBRI transnational access sites offer access to this pipeline and each have a selection of the techniques; see the MOSBRI techniques page under hydrodynamics.
The numbers after each entry in the pipeline list refer to the TNA sites, see the table below.
---
When applying for TNA via pipelines:
You can apply directly using the option Access to

MOSBRI

pipelines. A TNA site may be chosen as part of the application process: please refer to the full TNA site/partner descriptions linked below for details of the services offered.
Should a choice of site be unclear, then do not select one and the

MOSBRI

experts will help in choosing the most optimal site.
If the choice of pipeline, or any other

MOSBRI

offer, is unclear, or you have a project which needs maturation, then we offer expert counselling through applications submitted using the option Project Maturation.
If you need more information about a pipeline, or have any other questions including how to access several TNA sites for a pipeline, please do not hesitate to contact the

MOSBRI

TNA manager ().
---
TNA sites marked with an asterisk (*) offer remote access in the form of sample ship-in services. See the TNA site description for details about this offer.
---
1)

Pasteur-PFBMI

Molecular Biophysics core facility,
Institut Pasteur, FR
View full partner description
2)

AU-SRCD

SRCD Facility at ASTRID2,
Aarhus University, DK
View full partner description
3)

ULB

Centre for Structural Biology and Bioinformatics,
Université Libre de Bruxelles, BE *
View full partner description
4)

LAMBS

Laboratory for Advanced Microscopy Bioimaging Spectroscopy,
Universita Degli Studi Di Genova, IT *
View full partner description
5)

RUG-BP

Zernike Institute for Advanced Materials,
Rijksuniversiteit Groningen, NL
View full partner description
6)

EMBL-SPC

Sample Preparation and Characterisation Facility,
EMBL Hamburg (HH), DE *
View full partner description
7)

ProLinC

PROtein folding and Ligand INteraction Core facility,
Linköpings Universitet, SE *
View full partner description
8)

NIC

Molecular Interactions, Department of Molecular Biology and Nanobiotechnology,
National Institute of Chemistry, SI *
View full partner description
9)

ISMB-BIOPHYSX

Protein Crystallography and Biophysics Centre,
Birkbeck College, University of London, UK *
View full partner description
10)

EPR-MRS

EPR-Facility Bioénergétique et Ingénierie des Protéines,
CNRS & Aix-Marseille University, FR *
View full partner description
11)

MoB-IBT

Centre of Molecular Structure,
Institute of Biotechnology of the Czech Academy of Sciences, CZ *
View full partner description
12)

DSB-UROM

Sapienza University of Rome, IT *

View full partner description
13)

BIFI-LACRIMA

Institute for Biocomputation and Physics of Complex Systems,
University of Zaragoza, ES *
View full partner description
---