5) RUG-BP – Zernike Institute for Advanced Materials, Rijksuniversiteit Groningen
Location: Groningen, The Netherlands
Web-site(s):
MOSBRI reference site for the following techniques:
AFM: Atomic Force Microscopy, Optical Tweezers
Practical information:
View here.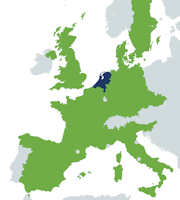 ---
Partner description
The RUG-BP infrastructure is located at the Zernike institute of the Rijksuniversiteit Groningen in the Netherlands and comprises the experimental biophysics efforts of the institute. RUG-BP has state-of-the-art equipment for all offered techniques and research output illustrates that we perform top-level research using these techniques. In particular the available techniques include Atomic Force Microscopy (AFM), Optical Tweezers, solid state NMR and fixed and life cell STED Super-resolution Microscopy.
Instruments / methodologies offered through TNA
Access modality: Access is typically provided as two weeks physical access.
Sample requirements
Full details of the sample requirements for each of the techniques offered at this TNA site can be found here.