The next MOSBRI scientific conference will be held in Ljubljana, Slovenia
in 2024.
6th June 2023: The updated book of abstracts, including some practical information about the conference, is available for download. Last updated: 06/06-2023
MOSBRI2023-BookOfAbstracts-Zaragoza-June2023_20230606.pdf
The MOSBRI 2023 conference was the second on-site international scientific meeting organised since the MOSBRI project was launched. The meeting provided a platform for international scientific exchange and showcased the newest developments in molecular-scale biophysics and related areas.
170 participants attended the meeting at the Patio de la Infanta in Zaragoza (Spain) organized by BIFI-LACRIMA – Universidad de Zaragoza. The programme covered 8 thematic sessions with outstanding oral presentations by MOSBRI consortium members, TNA beneficiaries, industry representatives and other EU and international scientists. Moreover, 67 posters were displayed, and 16 industrial sponsors presented the latest developments in biophysical instrumentation.
Following on from the 1st MOSBRI Scientific Conference (Institut Pasteur, Paris, June 2022), this new opportunity to network extensively in person was highly appreciated, notably during the two evening poster sessions and the conference dinner.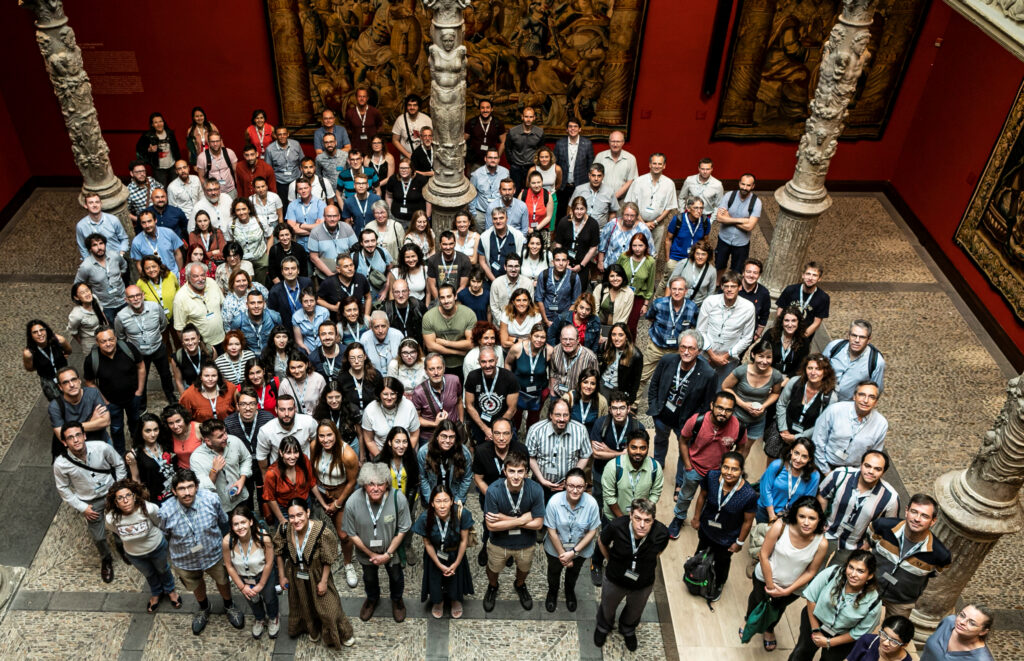 View a selection of photos taken at the MOSBRI 2023 conference.
---
Molecular-scale biophysics is the study of the architecture, dynamics and interactions of the often giant molecules of life (proteins, DNA, RNA, polysaccharides, lipids) via measurements of their physical properties. It is fundamental to both our understanding of how living organisms work, and our ability to block or enhance the function of these molecules, notably for therapeutic purposes. Deciphering the complexity of the behaviour of macromolecular assemblies requires a multi-faceted approach resorting to a large variety of distinct biophysical methods.
MOSBRI (Molecular-Scale Biophysics Research Infrastructure www.mosbri.eu) is a geographically distributed, scientifically and technologically integrated consortium, combining the distinct instrumentation and expertise of 13 academic centres of excellence and 2 industrial partners from 11 different European countries, coordinated by Institut Pasteur (Paris, France) and funded by the Horizon 2020 programme of the European Commission.
The second MOSBRI conference will show how such an integrated network can tackle an unusually wide variety of life science research questions. It will include presentations from MOSBRI partners and Scientific Advisory Board members, as well as from scientists that have already benefitted from the free of charge Trans-National Access (TNA) opportunities that MOSBRI provides.